WHAT OUR NEW MEXICO CLIENTS SAY
Enlight Homebuyers Reviews
---
People Love Working With Us - We Think You Will Too!
We have successfully served people from all around New Mexico facing many situations where they need to sell their home and fast!
"Andy's been easy to work with. He always comes to us, taking care of us, being willing to negotiate and discuss things. He is open and honest."

---
"I had decided that I wanted to move to spend my retirement near the beach. I chose to move from New Mexico to Florida. I wanted to move quickly and did not want to go through the typical process to sell my home. I also knew that my home needed updated and some repairs. I called several companies who buy houses and one of them was Enlight Homebuyers. My experience was a positive one from beginning to end. They came and inspected my property within a few days. They asked me what I wanted for my house and we agreed on a price that I could live with. I told them that I wanted to move quickly and they called and told me that they were ready to close within a week. That was a little too quick for me and I ended up needing another two weeks to be ready. The staff was very patient and willing to work with my schedule. Closing was all prearranged and my part took less than 20 minutes. My money was in my account the next business day. In short, I had a very positive experience with this company and would definitely use them again if needed. Everyone I worked with was professional, helpful, and very pleasant. The outcome for me was exactly what I wanted and needed."     -E. V. ★★★★★
"My mother passed away very unexpectedly. At that time I was in Colorado for my son's cancer treatment which also came out of the blue. After losing both my mother and my son to cancer I was overwhelmed with expenses, home repairs, and determining what to do with our home. Jackie Pearson with Enlight Homebuyers has been more than amazing to my family and I. She walked with me through the whole process. I was blown away with how she went above and beyond for me. I was offered a quick cash sale for the property and it didn't take much effort on my end. I would recommend this company to anyone who is a bind with real estate issues! My whole family thank you for all of your help!"
"I was placed as the trustee of my Parent's estate, and unfortunately a relative fell threw with responsibilities to keep up the home per the estates conditions. Therefor I was compelled to follow threw with the instructions surrounding their estate by having to sell the property. I received your flyer in the mail and read the information your company offered to purchase homes as-is, that is when I decided to give you all a call. My first contact was with Jarod M*****, he was very responsive, friendly and professional, and agreed to meet with us and access the property with 24 hours to accommodate my schedule. The end result was fruitful by way of the sale and purchase of the property. The offer was more than fair and we were very grateful and happy things went so quickly to resolve the responsibility of the sale within a months time. You helped relieve and take a huge burden off my shoulders because of the fair offer and responsibility of purchasing the home as-is, as well as cleaning, removing, and placing the property with a real estate company that could've taken months to sell. After meeting Jarod M***** and speaking with Jackie P****** on the phone and having had the thorough professional interaction with these two representatives of the Enlight Co. It was a delightful experience and I was very pleased with such a quick sale just as I was promised. I would highly recommend this company to others that are in need of selling a home and/or property." - Irene. ★★★★★
"Needed to sell an inherited home in Albuquerque, NM which neither myself nor my sister lived in and Treehouse Investments/Enlight Homebuyers were very helpful, most especially Susan! She and the company did their very best to provide a fair price and prompt closing. Definitely took what could have been a real pain off our shoulders! Thank you." -Laurie E. ★★★★
"My siblings and I inherited my Mother's home upon her passing. Based on the work needed to get the home ready for sale, and having to manage the process from different cities, we decided to sell the property "as-is." I researched a few companies in the Albuquerque area and chose Enlight Homebuyers based on past reviews. The entire process from initial contact to final closing was exceptional. The team at Enlight was a pleasure to work with. We met with Jared, the sales representative, at the home and a fair offer was agreed upon the same day. The paperwork required to complete the sale was minimal and processed quickly by the staff. A little over a month after meeting with Enlight the closing was complete and they began renovations. I would highly recommend Enlight Homebuyers and want to thank them for all their assistance"
"I reached a point where I was no longer able to live on my own but I didn't want to give up my house. I received postcard differing to buy my house and I set it aside. A couple of months later I ended up calling the number on the card an speaking with Jerrod. I was very surprised to learn that Enlight Homebuyers was friendly and helpful and most of all ethical. It took me almost 4 months to make up my mind but I never felt pressured and I never felt like someone was trying to take advantage of my circumstances. I'm happy that I worked with this wonderful group of people and I know I got a fair deal. Now I have peace of mind and financial security. I feel like my former house which I loved very much will be fixed and go to another person that I hope will enjoy it as much as I did. Enlight Homebuyers cares about the clients they work with and show that they want the best for the customers they work with and that is unique in the business world these days." - Eva M. ★★★★★
"Enlight Homebuyers was an excellent company to work with. We believed their cash offer to be fair. The staff was polite, responsive and very knowledgeable. I would highly recommend this comparably to others "
"Enlight Homebuyers was the best thing that we could have done. There was no stress, and no fooling around. I wish I would have called them sooner. I could not have imagined that the whole process of selling my home could be so easy. Thank you everyone you were all great and did exactly what you said." - Jamie V. ★★★★
"Enlight Homebuyers was amazing! They did everything they said they were going to do and delivered in a quickly and timely manner. I was so happy to not have to put any more time or money into my property. They came out a few days after the call, gave me a fair offer on the spot and we literally closed on the deal about 45 days later. Everything went smoothly and everyone was honest, fair and professional. I would highly recommend Enlight Homebuyers to family and friends."
"We were spending $150/week to coming in and trying to fix the place up so we could sell it. Having that taken away so we didn't have to worry about it, well that was the biggest relief."
---
"

I was totally overwhelmed by becoming personal representative after my dear friend and owner of the house passed. There was no way i could possibly maintain it or even afford living there. The house needed considerable work for which I had no time, energy or money. I had been contacted by the investment company after my friend's death and I found a quick and simple solution to my dilemma.

"

My experience was totally positive and probably saved me from a breakdown. The company was totally professional, sensitive and flexible. I highly recommend Enlight Homebuyers" - Janice ★★★★★
"Due to life events, I had to sell my house that was still under renovations. I contacted Enlight Homebuyers and they offered to help the same day they met with me at my house. In just a few weeks, I was sitting at the title company closing on the house. Huge weight was lifted off my shoulders and the entire process was quick and smooth not to mention I got exactly what I asked for in price. I wasn't burdened with the worry of an unfinished house sitting on the market for who knows how long. The office personnel were a joy to work with. They kept constant communication and updates on top of being a nice friendly bunch that were fun to do business with. If you need to get out of your house with no hassle, definitely contact this office. I would not only recommend someone that is in a similar situation that I was in but a house that's ready to sell."
"I had a positive experience with Enlight Homebuyers (Treehouse Investments) during a very difficult and stressful time in my life. I had gone through several life changes and I was not looking forward to adding to the stress of selling my home. I did research online and found Enlight Homebuyers. I read the reviews and decided to talk with them. After talking with them I was highly impressed with how professional and what he had to say about the process. At first it seemed to easy and too good to be true. It helped put me at ease with the understanding for my situation.I had just gone through a divorce after suffering the recent loss of my dad. My home was In need of many repairs and upgrades that I did not have the time for money but I had to sell my home in order to move on. Enlight Homebuyers provided me with hope for a fresh start. I spent a lot of time on the phone with Dee who was extremely kind, thoughtful and highly professional. I wanted to be completely out of the house on the day we closed but my situation did not work out that way. I was able to leave behind things I did not want to take which extremely made my my move easy. Everyone I spoke to atEnlight Homebuyers was professional, kind and always answered my calls or returned my call soon after I left a message.. All was was followed through just as offered and explained. Enlight Homebuyers has my highest recommendation. I will refer anyone in a situation like mine it to use Enlight Homebuyers. They were caring professional and followed through with what was agreed" - April ★★★★★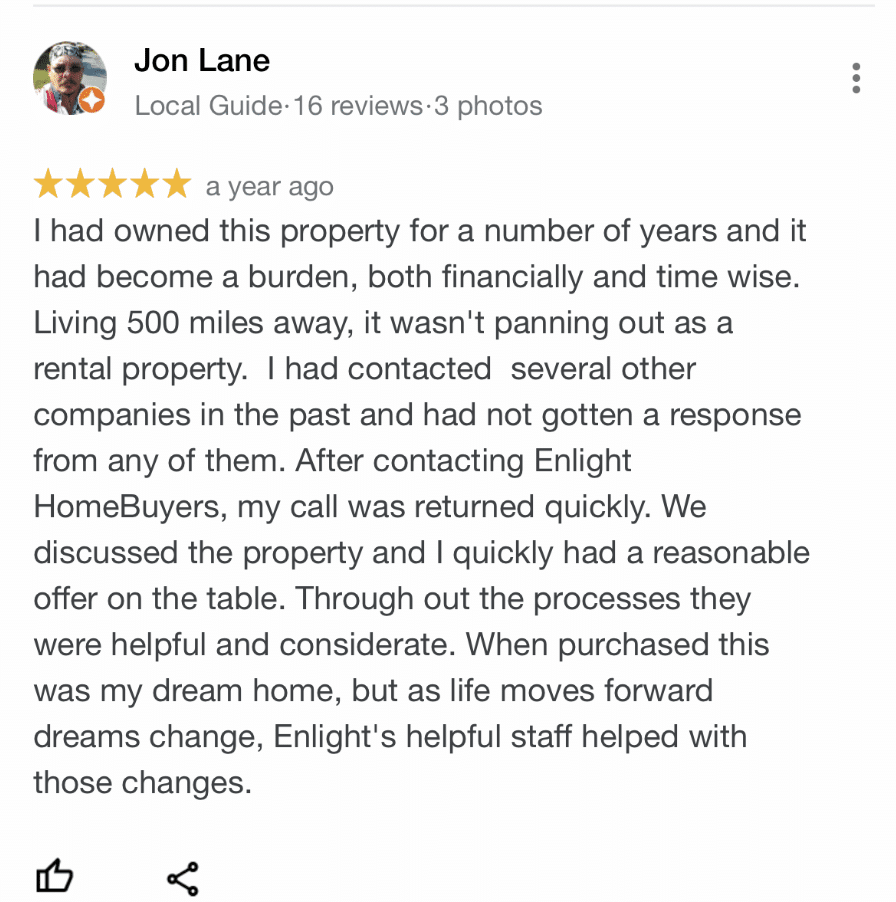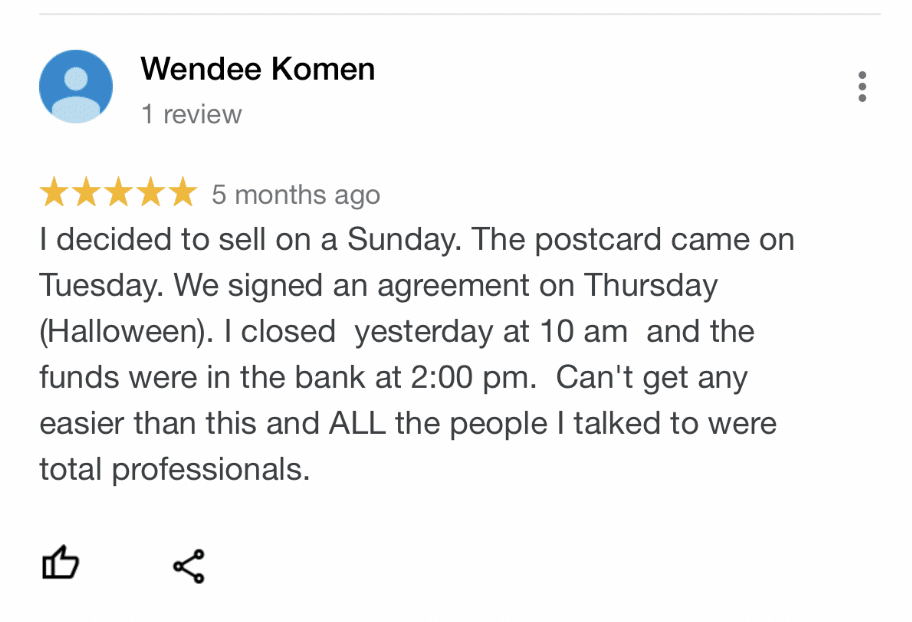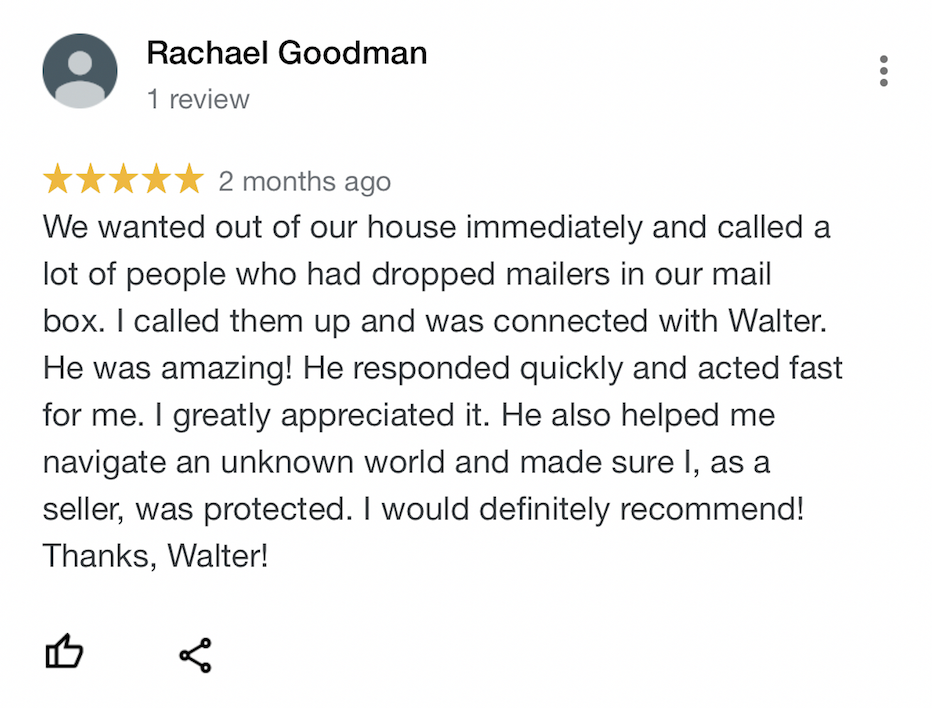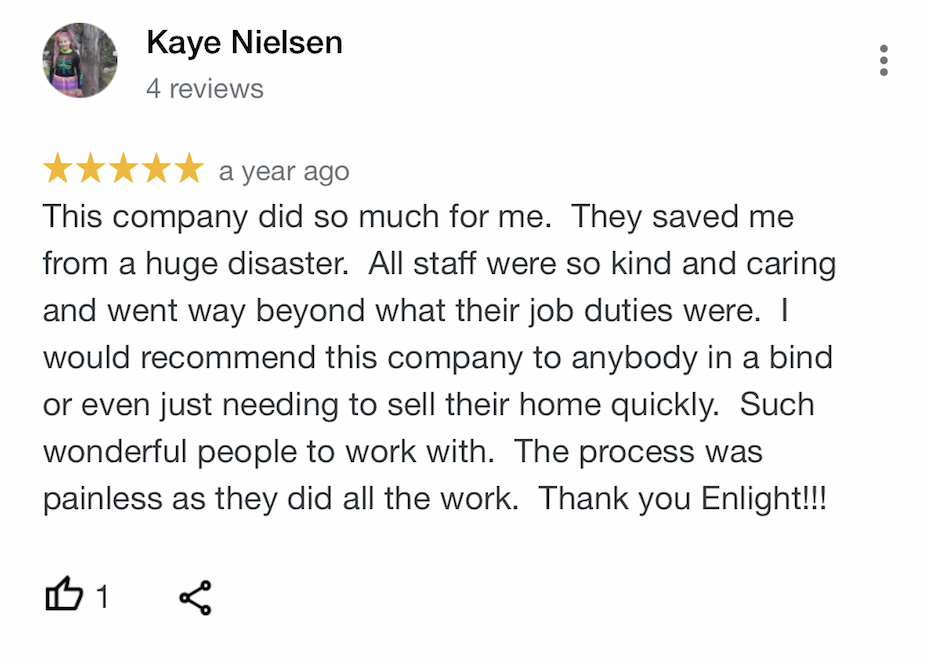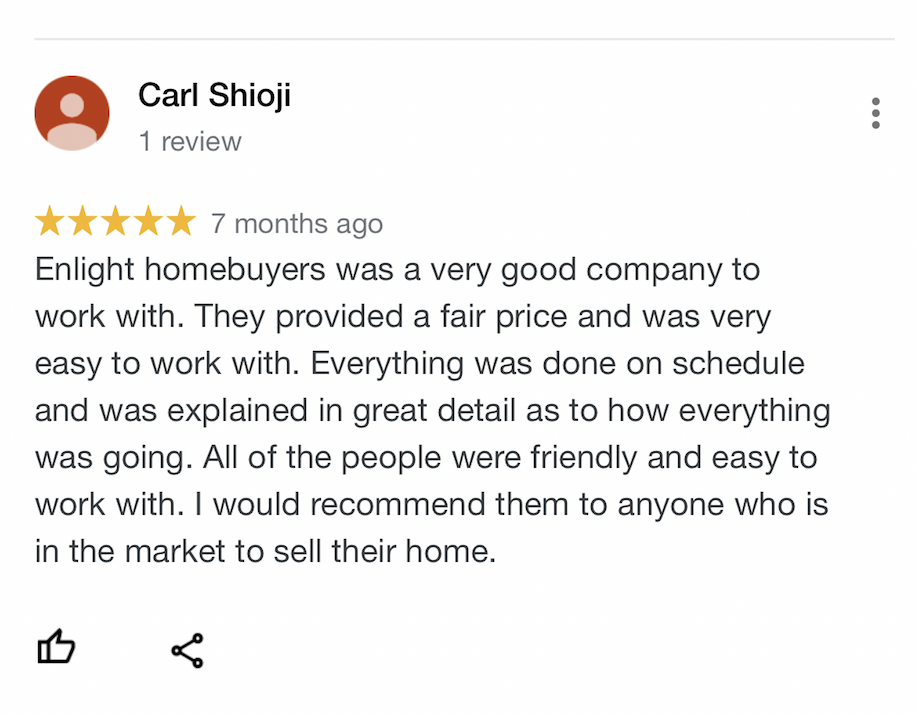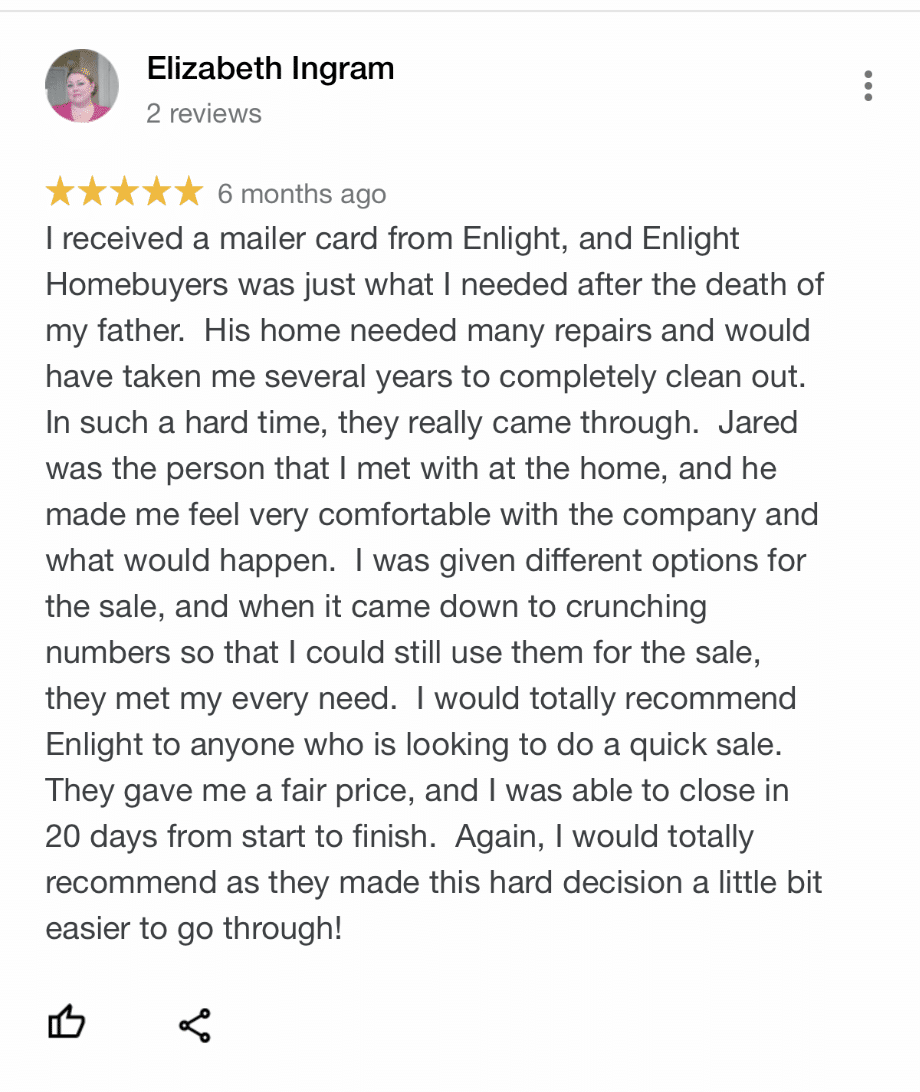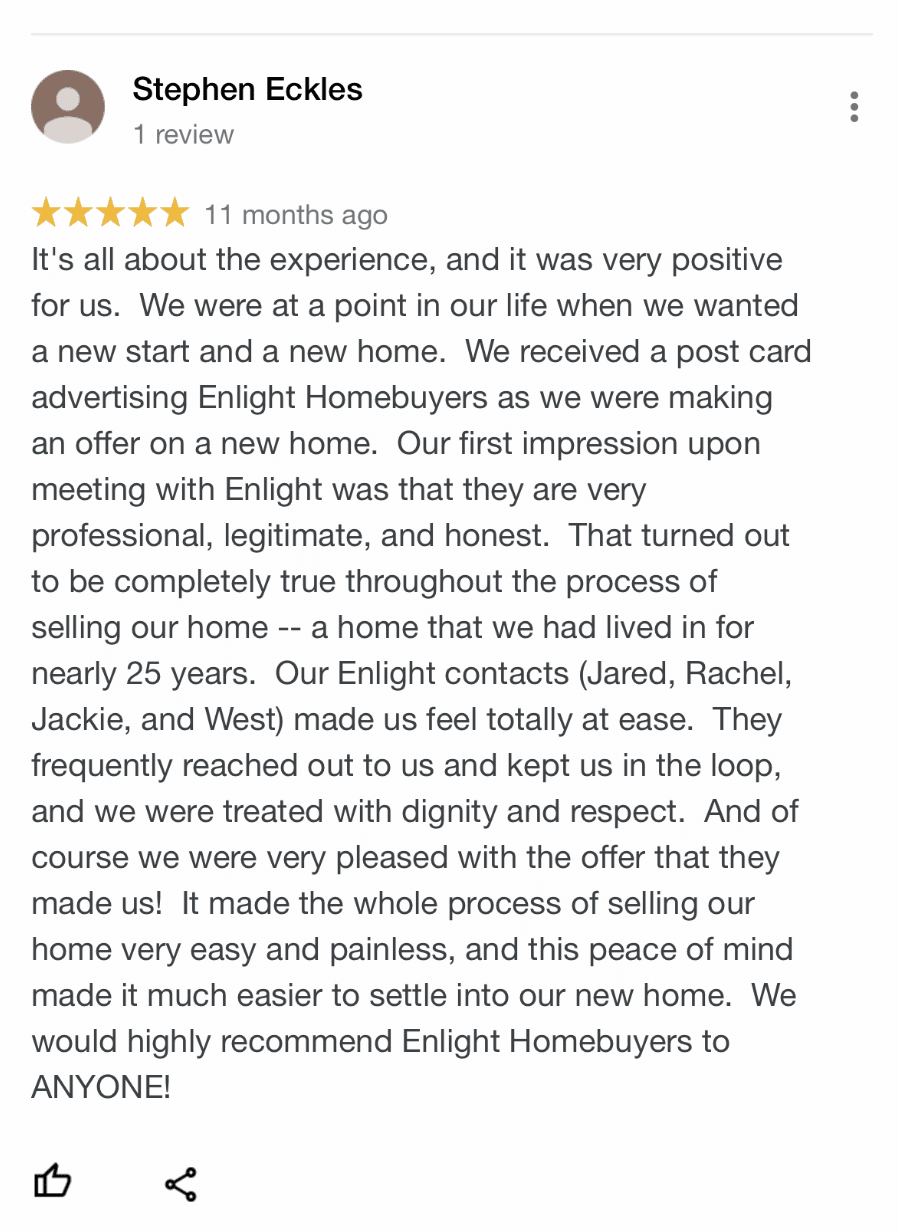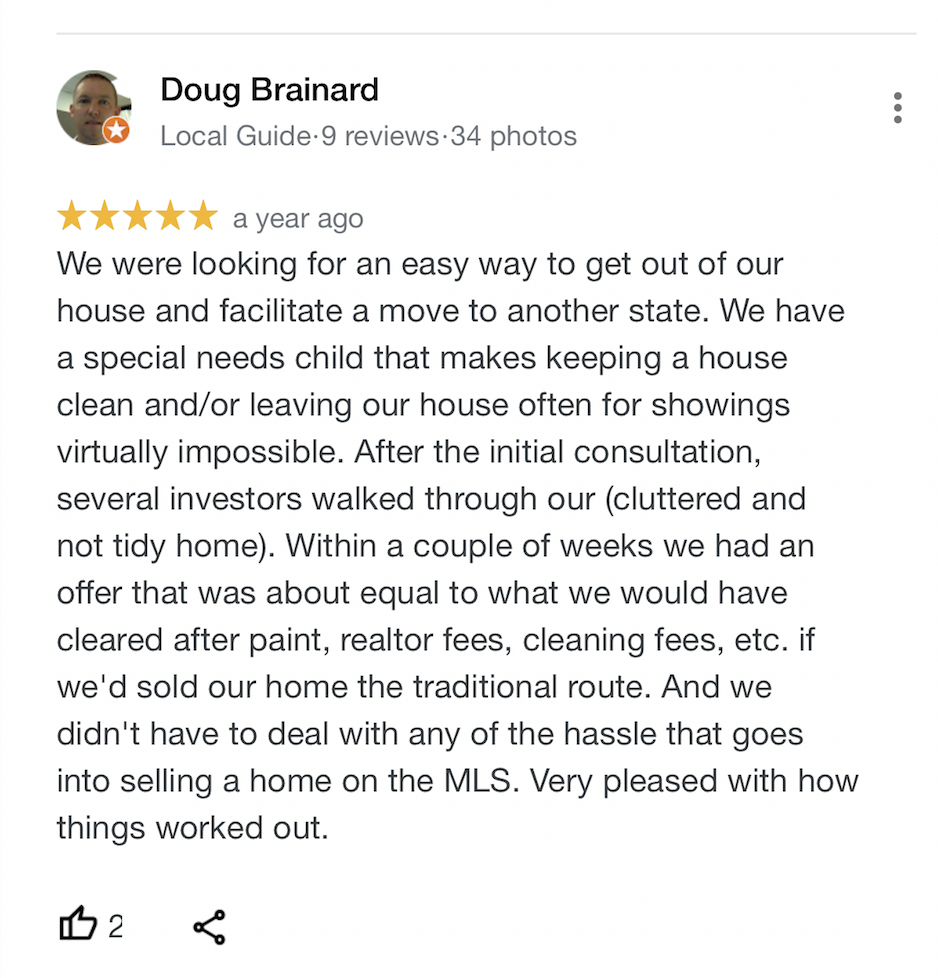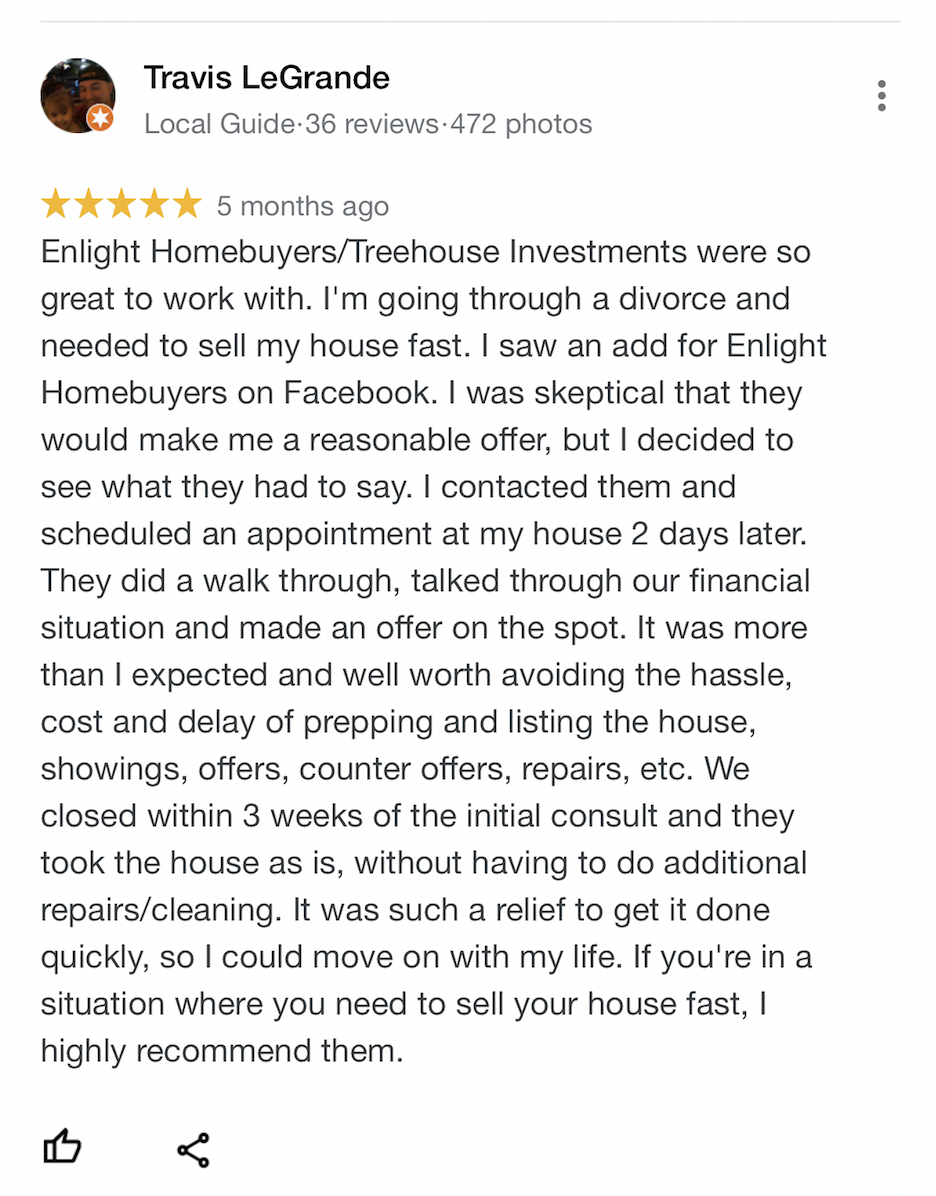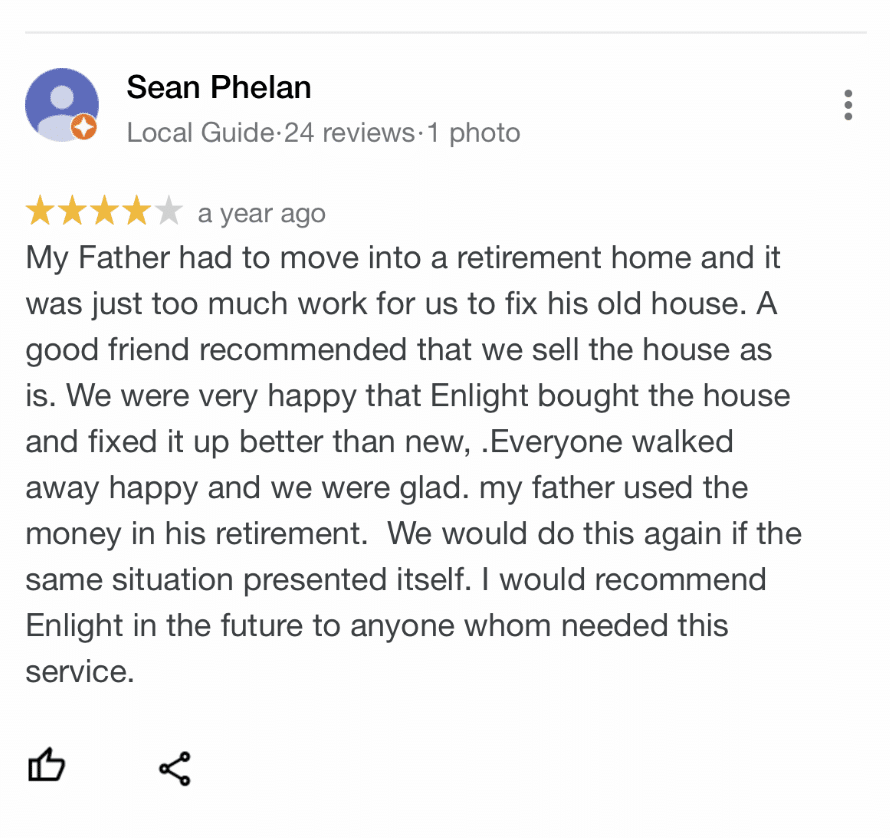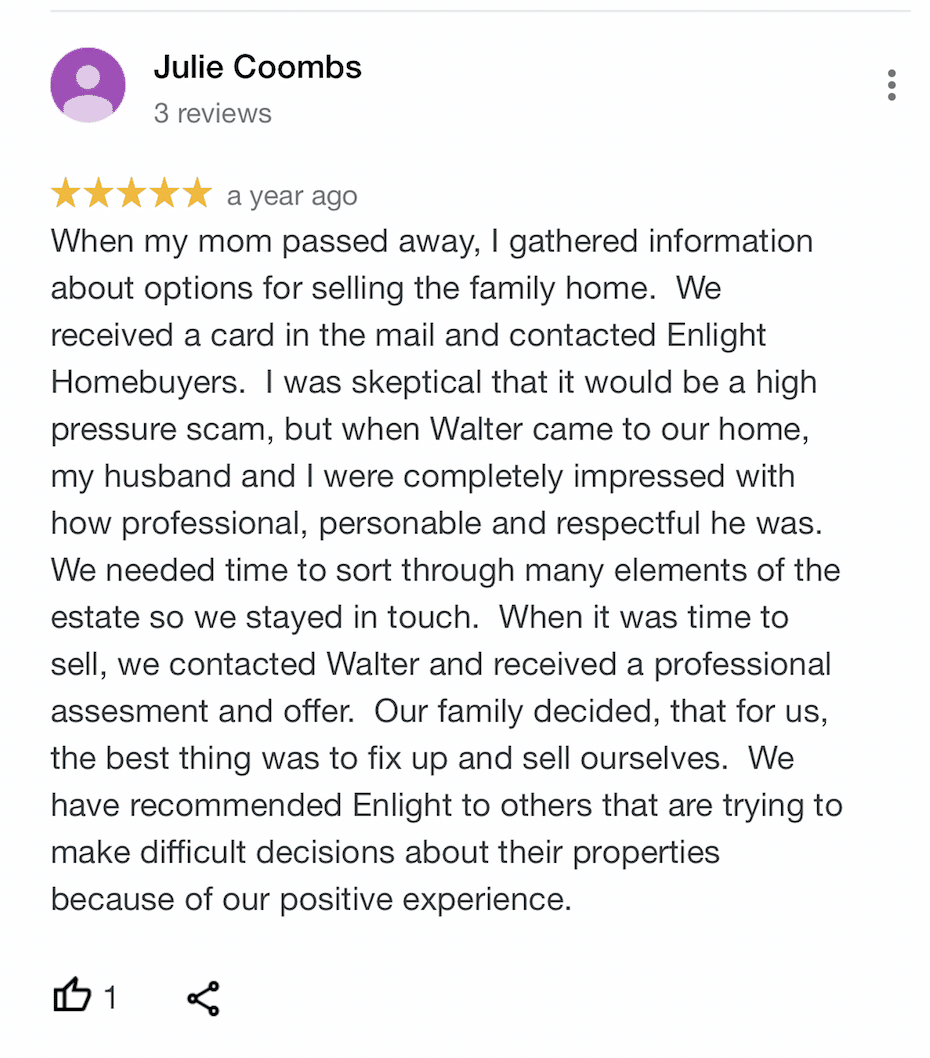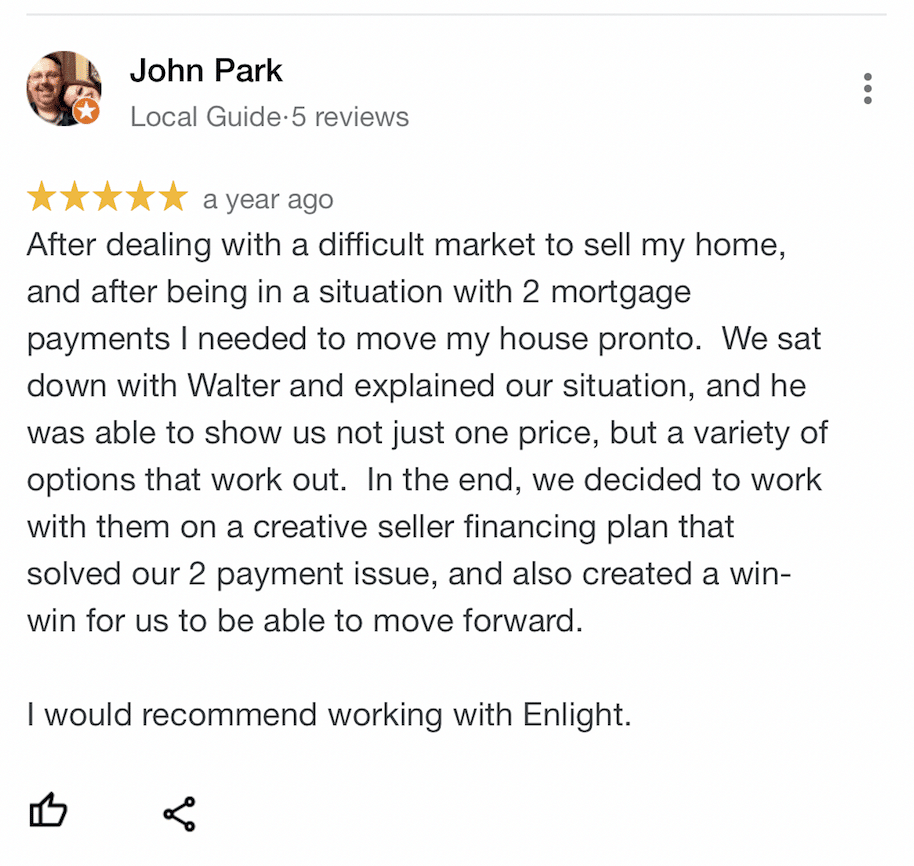 REVIEWS FROM OUR HAPPY HOME SELLERS 😃
Andy said he would buy the house and pay for it in a week and he did! I had a check with full payment and paid my bills in that same week
-Lewis Nielson
---
Andy McFarland was awesome to work with. We had a ton of showings on a short sale property but no offers. The home was run down and needed a lot of work, so it would not qualify for a standard FHA loan. He could see past all of the junk and got me a fair offer to get things rolling on the short sale. It took a while and we had some "1-800-INDIA" issues but he hung in there and did what he said he was going to do. We closed quickly once we had 3rd party approval. Now the house looks great and the neighborhood is grateful to have an eyesore renovated.

-Lonnie Williams
---
We had brought several contractors to see how much it would cost to fix our home. After some time we decided we would not be able to afford all that they wanted but we were really needing to move out since there was so many repairs needing to be done. We received a post card in the mail and instantly called. Within the week they came out and did a bid on the house. We would not have been able to get as much money as we did had we gone with anyone else. We loved working with everyone here and even when we needed to push our close date up they handled everything very well. We would definitely recommend them to anyone looking to sell their home as quickly and stress free as possible.
-Bibiana R.
I contacted four companies, two responded, only one made me an offer. The other company. Not interested. Didn't even make an offer. After a discussion with your very helpful agent. I came to the conclusion I did not want to spend the start of my retirement repairing and remodeling my house. A closing date and offer was made, and after a short delay (I have a VERY popular name) I received the funds from the offer made, and now can start my retirement with one less thing to do, and extra money to get started. Thanks! P.S. I will be contacting you in the future to see if there are other things you can assist me with, and I will highly recommend your company – John A.
---
---
I'm so glad I called Andy, the property I inherited was vacant and a mess. I had no money to fix it up and needed to sell quickly. Andy gave me a fair cash offer on the spot, paid all the costs and closed in two weeks! I saved thousands in fees, didn't have to fix up the property and actually got a better price than my neighbor did selling with a Realtor. 
– Andrea C.
---
Enlight took a stressful situation and made it as comfortable as it could be. The associates that came to see the house were kind, friendly, and made me feel comfortable. Their administrative support was available, informative, and warm. Even my parents, who have been in the business of buying and selling homes my whole life reflected that this was a great deal for someone in my position and circumstances.

-Lindsay B
We had taken over parents house after father passed away. It was needing interior work and house was too small for us. It was constant up keep and maintaince. We actually were given the number from someone we were talking to about selling. We called and they got right back with us, drew up offer and we closed very shortly after. Susan was my contact and was awesome!
-Kathy H.
We did not want to spend the time to do further updates and repairs, so I called and set an appointment. We also did not want the hassle of listing and repeated showings until the house was sold. We were sure the offer would be extremely low and unreasonable. We were surprised, we were given a reasonable offer on the 1st visit and not pressured. The next day I called back to accept. The process was so smooth and hassle free, it actually had me concerned, it can't be this easy. But it was that simple, no realtor fees, no showings, no repairs or updates. If you are looking to squeeze every dollar out of your property, this might not be for you, but I believe in the end considering all the expenses, time and effort we saved, we actually came out nearly even.
-David B.
i learned the hard way how difficult it was to keep up with the home. Money was tight and I did what I could to keep up the appearance of the house. It got painted, sections of the siding replaced, a new roof, a nice lawn and the list goes on. This was not easy to do on a single mother's salary. Inside was another story. There was some pretty ugly wallpaper, nasty carpet and cheap laminate. I just couldn't keep up. I saw an add for Enlight Homebuyers and decided that I didn't have anything to lose by contacting them. I met with Dave and he went through with me everything that was of concern and I just knew I would never be able to get it all fixed. Enlight Homebuyers made me an offer on the house that would allow me to pay off the remainder of my mortgage and put a decent down payment on a condo. – Teresa B.
We live over 5 hours away from my dad. It became apparent this fall that Dad would need full time care. We honestly didn't have the time or energy to clear out his house and prepare it for sale. Ironically, I found your advertisement in some of Dad's paperwork. You guys made the entire process very easy. Each step was explained thoroughly. I was amazed at how fast your team worked and how accommodating you were. Thank you for a great experience!
– Caroline H.
---
As an out of state property owner, I had a challenging management issue in our house, and was contacted by the team at Enlight about how they could help. It was evident from the beginning that they knew how to best approach a solution for me, and patiently supported my timeline for the transaction. Having bought and sold many residential real estate investments over the years, its rare to find buyer partners who understand the importance of timeliness, clarity and communication. The actual transaction was quick, easy and the staff were supportive and understanding. Selling the property to Enlight has allowed us to attend to other investments and allocate the proceeds from this investment in a focused and effective way. I'd not hesitate to recommend Enlight, and would welcome doing business with them again myself. -Richard K.
We want to thank Enlight Homebuyers for handling our sale. We found the idea overwhelming, but with your professionalism and courteous approach things seemed to fall into place . From the first call we felt comfortable and confident that we were being treated fairly . I would highly recommend Enlight Homebuyers to anyone selling an estate – Rick D.
---
We met Andy at the house after he made contact with us. We have been able to put together a very satisfying deal with Andy in a very short period of time. He made some commitments to us and he kept every one of them and has been very professional as we went through this process. I would certainly recommend Andy to anyone else that was interested in doing such. – Joe Bivins
We had to sell my mother & father's home, we called a few companies and Enlight was the only one that responded on a timely manner. The person I worked with kept in contact with me, I would receive an email and she would call and explain the email. I would recommend this company to anyone.
-Alice B.
Enlight Homebuyers was one of the investors I called. Roger meet me at the house and went through it. At the end of the showing he made me an offer and after a counter offer and his counter I accepted the offer. This was on December 1st and he set the closing date to December 29th. When the office found out I was willing to close as soon as possible we set the date for the next week. We closed on December 16th. I have bought and sold more than 10 homes and this was by far the easiest sale and closing I ever had. The closing took 20 minutes. I am very pleased with Enlight Homebuyers and would recommend them to anyone.
– Scott S.
---